ySense: The new ClixSense with PayPal and much more
ySense is the new name of ClixSense, which for many years has been the best page to earn money online for free. It seems that this is not going to change, since the options remain the same and some very interesting ones have even been added. The most prominent of all is undoubtedly the return of PayPal.
Another very significant variation is the change of administrator, which has passed from the hands of Jim Grago to Prodege LLC, a well-known company and owner of other very good pages such as MyPoints or Swagbucks. Thus, the management of the new platform is in good hands and should not be anything negative.
In addition, I have already received my first payment and I can assure you that the page continues to pay without any problem. I recommend that you keep reading to learn more about the new "home" for ClixSense users 😀
Read Also: 16 Ways To Make Money Fast In Your Spare Time
What is ySense?
ySense is a platform that offers the possibility of earning money free through online tasks and paid surveys.
Formerly known by the name of ClixSense, it has been online since 2007 and has more than 5 million registered users. Its main characteristics are the following:
| | |
| --- | --- |
| Exercise | Tasks, surveys, mini-jobs and bonuses. |
| Business | Prodege LLC. Manhattan Beach, USA. |
| Payments | PayPal, Skrill, Payoneer, Steam and Amazon. |
| Referrals | 1 unlimited level. 20% commission + $2 bonus. |
| Countries | Everyone. |
ySense registration and first steps
The registration process on the platform has changed slightly and now you just have to enter an email and a password. Later, you will receive a confirmation email to activate the account and ready, you can access it 😉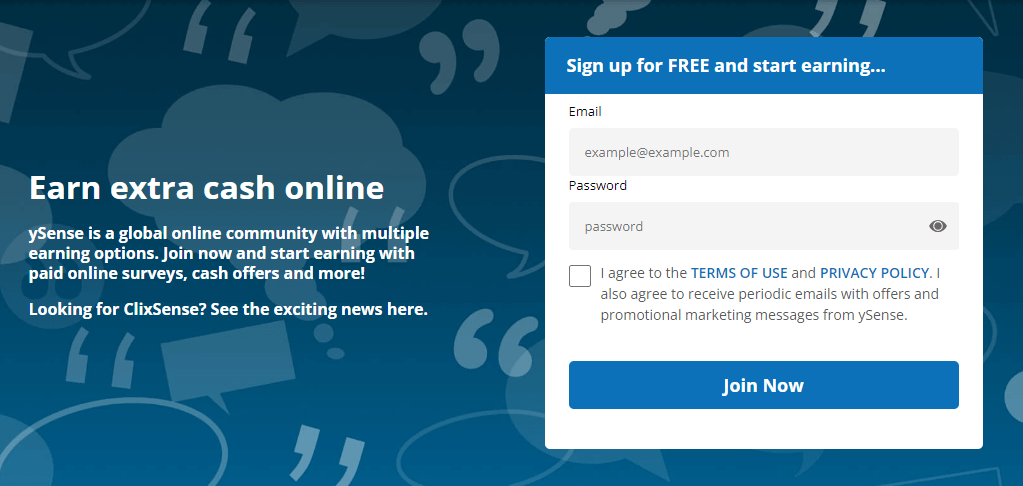 How to make money on ySense?
The methods to generate anise are practically the same as in the old platform, although little by little they will add new sections that we will update in this same post. At the moment they are the following:
► Paid Surveys
In this section, you will find many opportunities to earn money with paid surveys. Depending on the country where you live, you will get more or less, but there are usually quite a few and with really attractive rewards.
ySense paid survey: Participate in surveys and get hundreds of dollars.
It is important to emphasize that these surveys are not received by email, so the only way to check if there are new ones available (they are continually renewed) is by entering the web or installing the ySense addon.
The amount of the surveys are received immediately at the end of them, except those marked with a red flag that is paid after 30 days.
To consider
To receive the largest number of surveys, it is essential to have a suitable profile. So, make sure you correctly complete all the categories (health, work, technology, income, home, etc.) in the most optimal way possible.
► Offers (Cash offers)
Here you will find all kinds of paid offers: downloading applications, registering on other pages, display ads, etc. Apart from the ones on the ySense wall, you will also see the ones from OfferToro, Peanut Labs, Adscend, Wannads and AdGate.
The remuneration for each task can vary quite a bit, ranging from a few cents to several dollars. As is evident, it is something that will depend on the difficulty and duration of the offer. My recommendation is that you try all the offers that seem suitable to you until you find the best ones for you.
In my case, the ones that work best for me are trying new games, applications and services. I also usually make offers to display advertisements (they pay little but are very easy).
► Mini-jobs
Small tasks and mini-jobs from the Figure Eight platform. If you don't know how it works, take a look at this guide. Apart from the great earnings that you can get through this section, if you are a very active user you can achieve excellent additional rewards:
An extra $5 for every $50 you've earned through these types of mini-jobs.
$100 to be distributed among the 10 users who have completed the most jobs correctly in the last week.
The 100 dollars are distributed every week and, as is evident, will depend on your position within the ranking. In the following table, you can see the complete cast:
| | |
| --- | --- |
| Position | bonus |
| First (1st) | $50 |
| Second (2nd) | $20 |
| Third (3rd) | $10 |
| Fourth and fifth (4th/5th) | $5 |
| Sixth to tenth (6th/10th) | $2 |
mini-job rules
Although it is true that there are unique and exclusive tasks, most of them can be completed several or even unlimited times. However, it is something that you will be informed of before doing them.
On the other hand, in some tasks, you will have to pass a previous training exam, something that is done to guarantee the best results for the external providers that commission this type of work.
► Affiliates
Another way to earn income on this platform is by taking advantage of its excellent referral system. The commissions are really attractive and it is very worthwhile to share your invitation link, which you will find on the main page of your account.
1   For each valid referral you will earn a registration commission of $0.10, which can reach up to $0.30 if they register from Tier 1 countries.
Tier 1 countries
2 When one of your referrals reaches their first $5 (excluding commissions and bonuses), you will earn an extra $2 .
3 You will also get a 20% commission for each survey, task or mini-job completed by one of your referrals.
If you want to take advantage of this affiliation system but you don't know how to get referrals, don't miss this article with more than 40 tricks 😉
► Toolbar and Sense
As was the case with ClixSense, a browser add-on is also available here that alerts you whenever there is a new job, task or survey available. It is really useful and works for Google Chrome, Firefox and Edge. A sample of job notification below.
You can download and install it very easily from the "More" → "Addons" menu.
► Daily Checklist (Daily Checklist Bonus)
The daily checklist is a way to reward your activity within the platform. You can earn up to an additional 16% bonus which will be added to your account balance at the end of the day.
This bonus is calculated from the earnings you have personally earned through tasks, surveys and mini-jobs. Referral commissions do not count.
Requirements to complete the Daily Checklist Bonus
There are four ways to get an additional 12% bonus. You can choose the one you want:
Complete 10 Figure Eight tasks.
Conduct 2 surveys.
Complete 2 offers.
Do 5 Figure Eight tasks + 1 survey + 1 offer.
Extra daily bonus
If you want to reach the maximum possible bonus (16%), you must perform the following actions:
Have the ySense addon installed in your browser = 2%
Completing the checklist three consecutive days = 2%
Payment methods to receive earnings
The means of payment to receive the earnings are still in full incorporation phase, although it is expected that they will finally be the following:
| | |
| --- | --- |
| Coin purse | withdrawal minimum |
| PayPal | $10 |
| Skrill | $10 |
| Payoneer | $50 |
| amazon | $10 |
| Steam | $10 |
If your intention is to receive payments by PayPal, you must take into account the following aspects:
PayPal account must be verified.
Your first and last name must match in ySense and PayPal.
The email must be the same in both accounts.
If for some reason you have not registered in ySense with the same email that you have associated in your wallet, do not worry. In your PayPal account, you can add all the emails you want 😉
What cannot be changed at the moment is the name and surname, so make sure you fill them incorrectly in the "Profile and settings" section before requesting your first withdrawal.
But… does ySense pay?
Yes, of course, they pay. That has not changed and the seriousness with payments continues to be one of the hallmarks of the platform. On the Internet, you can see several proofs by doing some google search.
The fact that they are once again paying through the most famous electronic wallet in the world is great news for everyone.
Advantages and disadvantages to consider
Before giving my final opinion about this page, I want you to know the most relevant positive and negative aspects.
Pros:
More than 13 years online paying on time.
Reputable and reliable company with several awards and recognitions for its work.
Wide variety of ways to earn money totally free.
A quite powerful affiliate system.
The payment minimum is low and easy to reach.
No geographic restrictions.
It has the best payment methods.
With a proper profile, you can earn a lot of money from surveys.
Cons:
The page is only available in English.
The number of offers and tasks available in Latin American countries is lower than those in the US and Europe.
Conclusion and opinions about ySense
Matching the incredible track record that ClixSense has had over the last 13 years are going to be very difficult, but not impossible. Prodege LLC is a powerful company and has enough experience to pilot this new project.
At the moment the website continues to work the same as always and with the addition of having PayPal, without a doubt a determining factor for the website to continue growing in the coming years. Many people demanded this wallet and it has finally arrived.
More news and new ways to earn money are expected, so for my part, I will continue working the page to the fullest as always.
If you are new and did not know this benchmark in the world of online business, now is your chance to join one of the best resources to generate income from home. If you have any questions, leave it in the comments and I will gladly help you 🙂